Get Ready for 2023 Halloween with 42Lolita - Shop Spooky Styles & Enjoy Free Tights!
Time to prepare for 2023 Halloween
Are you eagerly awaiting the spookiest time of the year? Halloween is just around the corner, and at 42Lolita, we're thrilled to unveil our captivating Halloween-themed collection! Whether you're a Lolita fashion enthusiast or looking to embrace the allure of Ouji fashion, we have everything you need to enchant this Halloween.
Our online store is a treasure trove of various Lolita dresses, accessories, wigs, shoes, and Ouji fashion apparel, each boasting unique styles that will make you stand out from the crowd. With intricate details, exquisite craftsmanship, and a touch of eerie charm, our Halloween-themed items will add an enchanting touch to your festivities.
Enjoy free tights for your Halloween coordinates
The best part? Starting from August 1st until August 15th, you can receive a delightful treat with every order over $119 (not including shipping fee). We're gifting you these mesmerizing socks that will complement your Halloween ensemble. Be quick to snatch up this offer and get your 2023 Halloween outfit ready in advance!
From cute and kawaii styles to dark and gothic aesthetics, our selection has something to suit every taste. Whether you're attending a Halloween party, planning a photoshoot, or simply enjoying the holiday spirit, our products will make your experience truly magical.
Don't wait until the last minute - seize the opportunity to shop early and avoid the last-minute rush. Prepare for Halloween with 42Lolita, and let your creativity shine through our enchanting fashion pieces.
The Halloween free tights & socks gifts
1. Yidhra~Gothic Lolita Cross Black White Stockings
2. Yidhra~Wedding Night Butterfly~Kawaii Lolita Summer Stockings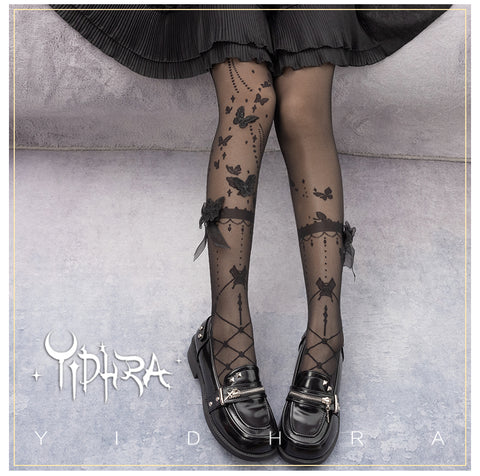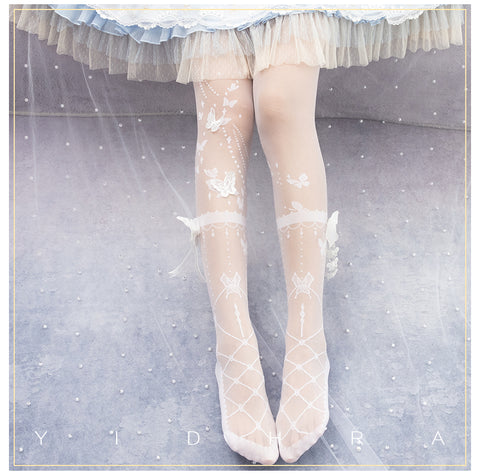 3. Yidhra~120D Flower Pattern Velvet Lolita Tights
4. Yidhra~Cute Cat Cotton Lolita Socks
5. Yidhra~Daily Lolita 80D Velvet JK Knee-High Socks
6. Yidhra~Gothic Lolita Spider Butterfly Net Pantyhose
7. Yidhra~Reverberation Summer Long Stockings
8. Yidhra~Animal Rhapsody~Spring Lolita Accessory Printed Pantyhose
9. Yidhra~Midnight Circus~Argyle Digital Print Lolita Stockings
Remember, this offer is valid only between August 1st and August 15th, so don't miss out on the chance to receive those stunning free socks. Our team is excited to help you create a mesmerizing Halloween look that will leave a lasting impression.
Visit our online store now, explore the Halloween collection, and be ready to embrace the spirit of Halloween with 42Lolita's captivating fashion!
Get ready to captivate and celebrate this Halloween with 42Lolita - where style meets enchantment! Happy shopping, and have a hauntingly fantastic Halloween!
---