Everything You Need For The Perfect Wednesday Addams Outfit
With long braids, a black collared dress and a dejected demeanour, Wednesday Addams's outfit is simple yet intense. Her style compiles a myriad of moods including gothic visuals, babydoll silhouettes and edgy schoolgirl influences. And with such a recognizable oeuvre, she's the inspiration behind endless fashion homages, from Halloween costumes to runway shows.
Thanks to her taste for forlorn fashion, Wednesday has become an apropos pandemic style idol. And amid the rise in edgy dressing, the terrifying teen has never been more on-trend. (Though she couldn't care less about that.)
Initially, Wednesday didn't plan to attend the Rave'N, Nevermore's version of the school dance. However, when Xavier caught her snooping around his art studio, she had to make an excuse. And Thing agree that she needs a new outfit!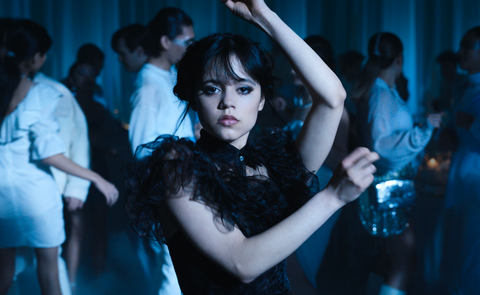 Wednesday Addams in School dance scene
You can choose this dark style gothic Lolita dress for your rave'n dance night. With stand-up collar design with bow and pearls on the chest, you can leave others a sexy atmosphere without realizing it. As it is a three-layer A-line dress with fly sleeves, it will look more gorgeous when you start to rotate. This dark-themed Gothic Lolita OP will be your first choice for your dancing night!
In addition to the above gorgeous gothic dress with a religious atmosphere, Wednesday in school uniform blazer is also a good inspiration. And this outfit will look more daily and modern.
Wednesday Addams in school uniform
The fabric is thick and can be worn in moist autumn and winter. This jacket is perfect for commuting and everyday work. In some formal situations, if you don't want to wear a dress that is too flashy and gorgeous, you can have this dark-theme gothic Lolita coat in your own gothic wardrobe. Here is another choice for you if you are a milltary lolita lover. Check this Military Lolita Gothic OP Dress here. Classic military uniform design, metal badges on the collar, pockets & medals on chest, buttons on sleeves, buttons on the front.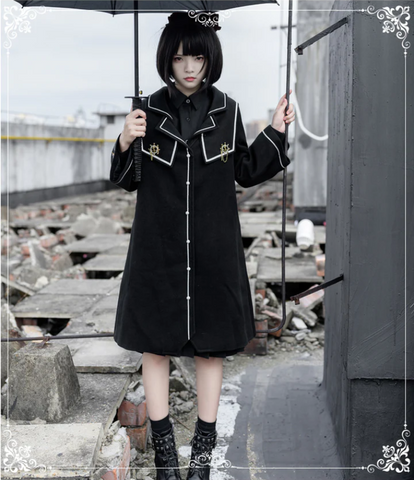 In Wednesday Episode 2, she learns from Enid that Yoko had an allergic reaction to garlic and cannot co-pilot the Poe Cup. Wednesday knows Bianca is to blame. She wants to kick Bianca off her high horse and agrees to help Enid win.
Jenna Ortega and Emma Myers wearing Poe Cup costumes in 'Wednesday' | via Netflix
"The Black Cat," one of Edgar Allan Poe's most memorable stories, is a classic example of the gothic culture. Thus, you can see it is considered as an essential symbol in gothic clothing. This is an original, long-sleeved black OP full set of Gothic styles. It's V-neckline, irregularly hemline, bishop sleeves with buttons design. It's a full set, which includes the OP dress, choker, corset, and detachable bow. This dress is a perfect choice for Halloween parties and for Lolitas who are obsessed with Gothic Lolita fashion.
The black and white maid outfit is also a classic element of gothic clothing. In this episode, Wednesday is wearing a black & white maid dress to sell cookies.
This is a set of maid Lolita dress, which includes a dress, a detachable apron, and a hairband. The overall black and white is very cute with a sense of girlhood. It would remind people thinking of Vitorian Gothic style. If you want to add some cuteness in your mystrious look, a black & white themed maid Lolita dress is your best choice.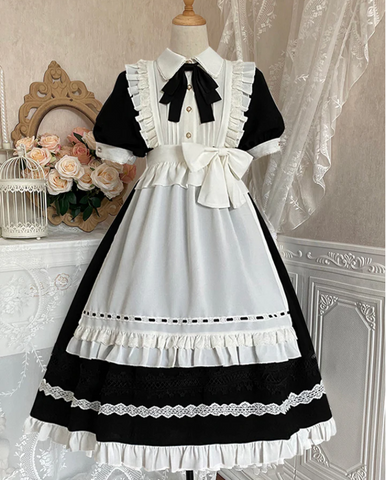 A Gothic Handmade Black Rose Hairband would be perfect to match a maid Lolita dress.
Also, you can check this Gothic Lolita Prince Skirt Set if you don't want to look like a gothic maid but remain some cuteness. It has delicated cross patches on the skirt, themed black and white. The cape features two long, flowing bands with delicate cross decorations on them. The pants are middle-length, featuring a high waist, and a pure black design. The blouse is designed with a stand collar and golden front buttons, with a medieval style. It is a gothic Lolita SK set including a blouse, cape, SK, and trousers for you to choose from.
Futhermore, you can choose gothic lolita accessory here for your gothic coordinates. Never miss these mysterious headdress, choker, cuffs and tights.
The pattern on the dress is inspired by the sun, sick rabbits, and lost clocks, which is full of dark gothic atmosphere. 
There are 2 options for this original designed JSK. One is for JSK dress+wasit belt+necklace, while the other one is SK+waistband. The JSK is darkness Gothic Lolita style, mysterious and elegant. Sunshine linen material will be very comfortable and cool to wear on summer. It has a cross pendant at the chest, asymmetric design. One side is cross strapping and the other is a zipper, which add some modern flavour in this mysterious look. And a beautiful butterfly necklace is also in this gothic coordinate! There is plus size (over size) for the JSK, very friendly to plus sized Lolita girls.  
This skirt is really beautiful, luxurious and gorgeous with A-line design and great cutting out. The bottom of the dress has a delicate lace. You can match a black waist band to this gothic Lolita outfits.
Morticia, the matriarch of The Addams Family, is alluring and incisive, and witchy AF. Gomez's cara mia is one of the original queens of Halloween. And, you can never go wrong with dressing up in a Morticia Addams costume for a party, trick or treating.
If you needed any more convincing, the Addams Family is back in the spotlight thanks to Tim Burton's new series Wednesday, coming to Netflix this fall. While we love the titular scary teen that is Wednesday Addams, her mother has our heart. It is very easy to find Morticia's vibe in Gothic Lolita fashion.
Your first choice to match Moticia's attire is Black Velvet. One of the key elements of the costume is her long, black mermaid dress. Additionally, you could always reuse it and wear it to your ex's wedding. A long, gothic lolita dress with mid-century influences is available in a variety of colors, including black, royal blue, wine red, navy blue, dark green, purple, and dark grey. It is an ethereal and lovely pattern made of soft velvet and delicate lace. All sizes are accommodated by the adjustable ribbons on the neck and back. Additionally, custom plus size clothing is offered.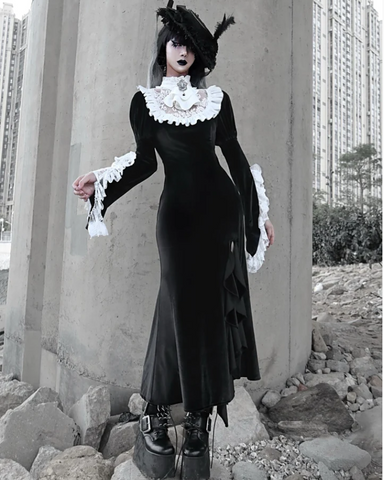 This heavy-duty garment has a gothic style and a traditional black and white patchwork. A second to become a godly aristocratic vampire countess, in the traditional meaning of a hollow round neckline and little scarf. You may easily alter the waist thanks to a shirring in the back.
inspired by the beautiful girl of noble lineage in the pitch-black night. The color palette is mysterious and uses the traditional black and red color combination. The general shape was changed several times before being confirmed in order to best showcase your lovely physique. The fabric has a black jacquard pattern that gives off a more blood-like effect. A specific cutting technique is used to create bubble sleeves that are thinner than regular bubble sleeves. The cascading skirt's extremely low hemline will highlight your longer legs.
This Gothic Lolita jumper dress combo is for women. It's primarily black and crimson and ideal for those that enjoy dark-themed Lolita. Beautiful red blooms and a red diamond are shown on the dress.
The Lolita dress is available in a basic black color in the Vampire collection, which has a more enigmatic style than the God series. The jacquard lace is the ideal complement to the elastic mesh fabric, which is smooth and pleasant to the touch. The finest ways to alter the figure are a slim cut and a V curve in front of the chest.
Metal cross decoration, three layers of lace and adjustable drawstring are also in the design of SK. A shirring on the back allows you to adjust the waist at will.
The double layer lace design on this lovely Lolita veil is stunning. To make your Lolita ensemble more opulent, pair it with any Gothic Lolita outfit, headdress, KC, or BNT. Moticia might wear this black veil in her wedding ceremony.
Any Gothic Lolita item goes nicely with this cross necklace.
With dark-themed decorations including a skull, blood bear, eyeballs, blood rabbit, and bat, it is black in hue. This is ideal for Halloween. Wearing it with a Devil's horn is cool. It can be worn with Gothic or Lolita clothing that is black and white in hue.
You can wear black and white gothic Lolita socks with crosses and dots to go with your gothic Lolita costumes.
This BNT is constructed of velvet and features bows, a lace brim, flowers in front, and a bow on the side. like a shady witch in the nighttime setting.
There are two variations to pick from, both with round toes. One has crossover laces and bat wings on the front. The other has many belt embellishments and square buckles but no bat wings. It is something that Wednesday Addams would like wearing amid a crime scene.
These gloves are Lolitas in the gothic fashion. made of real leather and lined with fleece. Ideal for the fall and winter, very cozy and toasty.
This handbag has a punk aesthetic. It has a bat-like shape, a solid-colored back, and can go with your gothic lolita attire. The bag contains a hidden compartment and a zipper.
This hat is a Gothic Lolita hat, it has a big brim and is black with wine red ribbon and roses.
This is a dark-themed Lolita fan. The whole is mainly black, with black and red flowers in the middle, surrounded by black feathers next to it. It looks mysterious and delicate.
All this to say, Wednesday Addams is a style figurehead. And in Netflix's Wednesday, premiering at the end of 2022, viewers will finally see the emotional arc of a character known for her apathy. She's kooky, spooky and loves gothic clothing. And that's what makes Wednesday Addams a true icon.
Looking to add a gothic lolita dress to your own wardrobe? You can show your rebellious attitude by wearing gothic lolita outfits. Find your perfect Wednesday Addams vibe on 42Lolita. 
---