Some Basic Knowledge for Lolita Newbies
If you are new to Lolita and want to step into this special street fashion, you need to get familiar with some basic knowledge before that. Otherwise you may do not know what other Lolitas are talking about, and can easily make jokes in Lolita fashion.
JSK: jumper skirt. Skirt with shoulder straps, sleeveless dress, vest dress all can be called JSK. Since it's without sleeves, it usually matches with an inner blouse to wear. For some JSK design, Lolitas also only wear the JSK, without an inner blouse, which is beautiful as well. For example, the following "Dream in Cage" JSK from indie brand Alice Girl is a standard JSK design.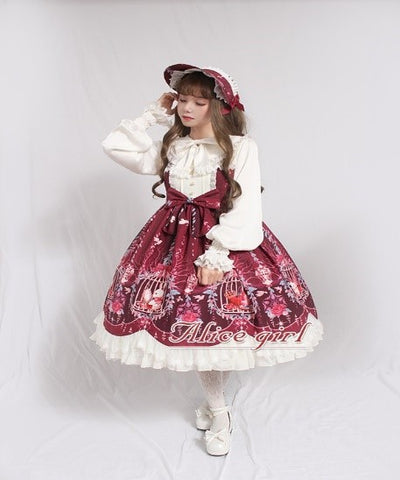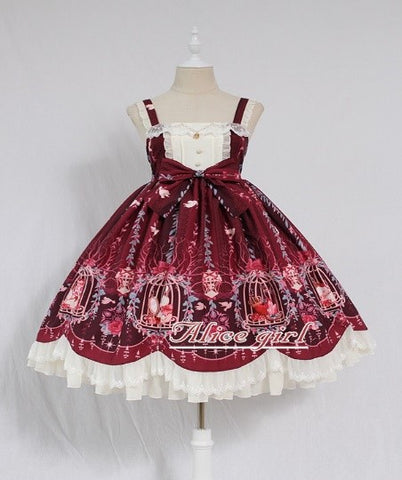 OP: short name for one-piece. It especially refers to a sleeved dress. There can be short sleeves OP or long sleeves OP. The following two long sleeves dresses are very good example of what an OP means.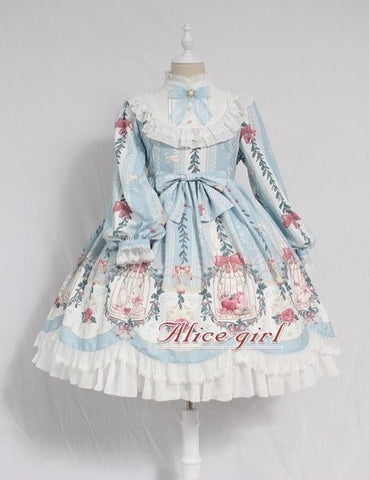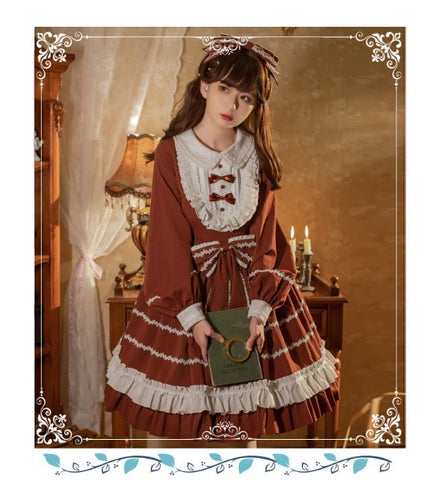 SK: skirt. The normal match for a skirt is a top shirt. A SK may be designed with shoulder strap or without.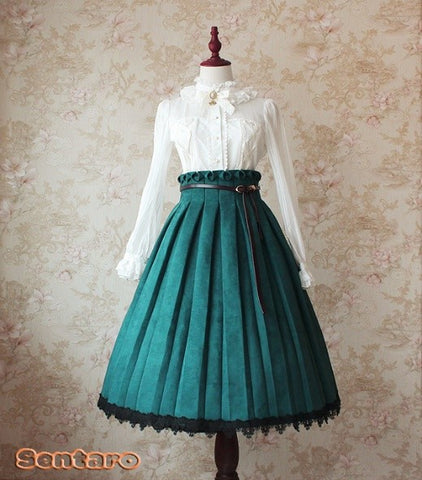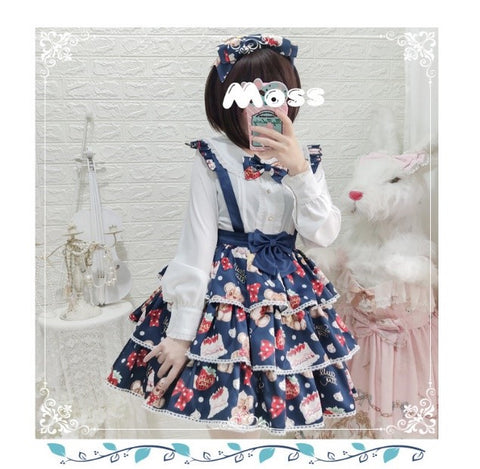 BNT: short name for bonnet. The western ancient women often wear decorative hats with large eaves. The bonnet is usually decorated with beautiful ribbons or flowers or other beautiful themes. It can make the full Lolita coordinate more beautiful.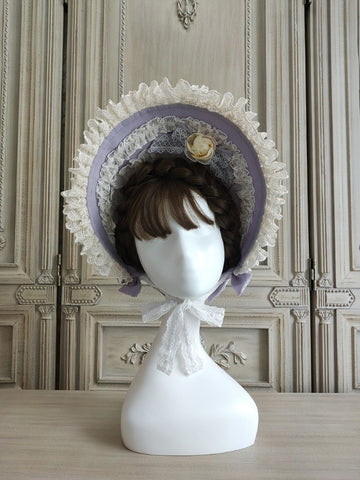 KC: Katyusha. Headdress and headband that matches with a Lolita dress.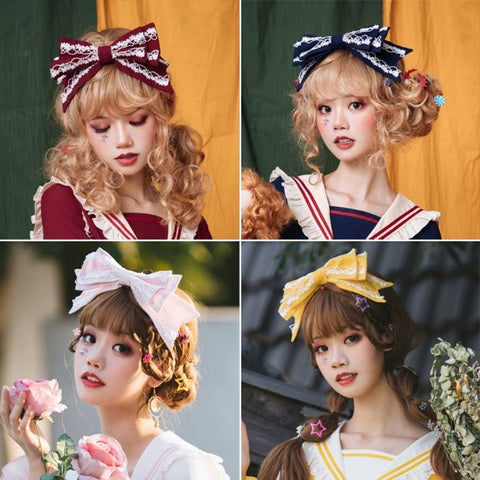 FULLSET: short name FS. It means the complete Lolita costume which usually include headdress (KC/ headband/ bonnet), wig, choker or necklace, shirt, dress, petticoat, tights, shoes, umbrella, bag, wrist cuffs, etc. The wig, umbrella, wrist cuffs and bags are not necessary for all Lolita coordinate, but the headdress, choker or necklace, JSK or OP, petticoat, tights, shoes are necessary for a Lolita fullset. Usually these components need to be the same or similar color scheme or have some designed elements echoes each other.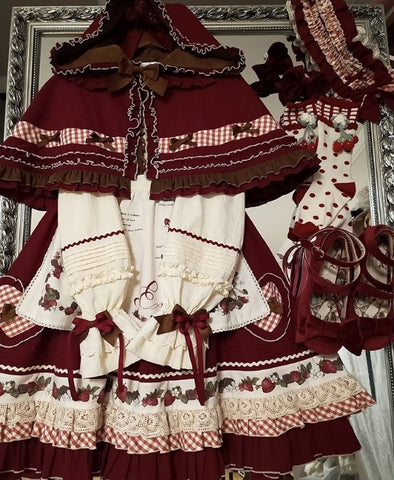 Choker: clavicle chain, short necklaces.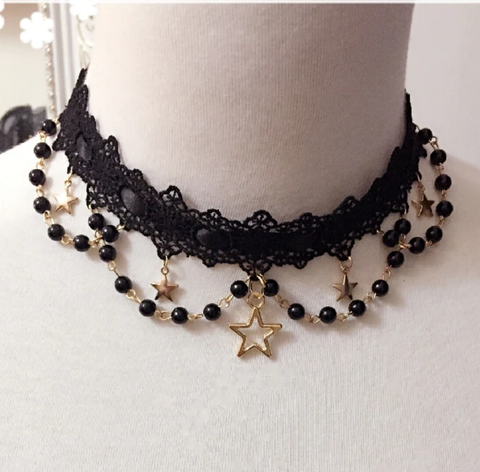 Ouji: a similar fashion with a more masculine appearance, usually worn by men, but some female Lolitas also wear Ouji, so some Ouji set has size for both female and male.
If you like Chinese Lolita indie brands, you may encounter some Chinese terms in Lolita community. The following ones are mostly mentioned among Chinese Lolitas.
小物: accessories. This usually includes accessories such as headwear, wrist cuffs, necklace, earrings, etc.
小萌款: popular style. The "little cute style" in the Lolita group is also the "pop style" in our ordinary wearing style. It refers to the large number of people who buy this Lolita dress, and the demand is very large, which is very popular with Lolitas.
再贩: Lolita dresses are usually pre-ordered. There are rarely ready to ship stocks and if miss the pre-order, you have to buy second hand ones. However, popular models (non limited) are very likely to restart the reservation after a period of time, which is called 再贩.
柄图: the print on the Lolita dress.
花嫁: bride. In Lolita, it refers to the wedding dress.
素鸡: shirring, some kind of elastic band which is used to adjust the size of the skirt, making it more comfortable wearing.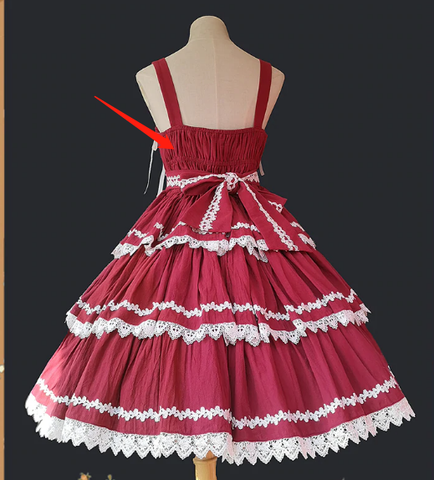 地球人: people who don't wear Lolita dresses. Because a long time ago, some people in the forum said Lolita dress is too exaggerated and called the girls who wear Lolita dress as "Martian". Lolitas began to use this word 地球人 to call ordinary people "earthman", which is now a neutral word.
山: imitations. Never buy imitations, never wear imitations to tea parties or formal parties.
穿山甲: people who wear fake Lolita dress.
知山穿山: Lolitas know it is fake Lolita dress and still buy and wear it. Never do this. When you buy a Lolita dress, please always be careful to avoid the fake ones. Plese only buy from the brands official store or trustworthy resellers, such as 42Lolita, as we promise that we only sell authentic Lolita dresses from the original designed indie brands.
切替: Japanese transliteration, similar to the meaning of splicing style, refers to the style with different patterns and different fabrics connected to form local discontinuous patterns. Generally, it refers to the Lolita dress with solid color on the upper body and printing on the lower body.
H价: Selling the secondhand Lolita dress at a higher price than the original price.
Thank you for reading this, and welcome to share your ideas with us on 42Lolita site. We do hope each girl can find and wear your desired Lolita dress, and hope Lolita dress can make you more confident and beautiful. 42Lolita provides both popular and newest released Lolita dresses from trustworthy Chinese indie brands. We also provide kinds of coupons from time to time that can be found on https://www.wethrift.com/42lolita , so please do not miss them. Let's shop happily and save happily. 😊
Best regards,
42Lolita team
---