42LOLITA November FREE GIVE-AWAYS
Wonderful news!!! 42Lolita November free give-aways campaig has began and will last from November 17th to November 20th, 2022. Each day, we will pick up one lucky Lolitas to send the freebies. 
THE STEPS OF FREE GIVE-AWAYS.
1. We posts this news on Facebook and Twitter;
2. We randomly select a lucky Lolitas from the posts sharers of the last day;
3. We will send message to the winner with the lucky item link for them to choose the color or size they want, as well as request on their shipping address;
4. We will post final winner list on our Facebook and Twitter on November 21th.
5. We will purchase the item and ship to the winners for free.
6. We will send international tracking numbers to the winners. 
7. The winners receive freebies at door.
CHECK WHAT YOU WILL GET FOR FREE ON EACH DAY FROM NOVEMBER 17TH TO NOVEMBER 20TH.  
November 17th, Mousse Bear Kawaii Princess Jumper Dress;
November 18th, Elegant Autumn Winter Lolita Velvet Blouse;
November 19th, Christmas Bear~Sweet Lolita Princess OP Dress;
November 20th, Little Dipper-Sweet Lolita Long-Sleeved Cotton Cardigan;
JOIN TO SHARE AND GOOD LUCK!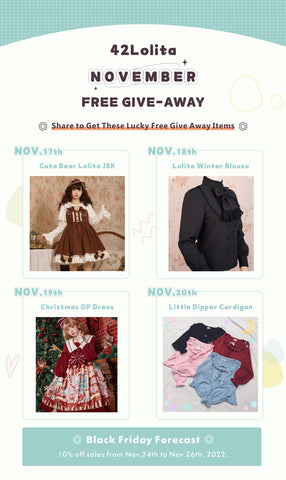 ---
1 comment
---
---